Stars of the Future
---
The National Construction College (NCC) supports thousands of delegates through apprenticeship courses annually and, with a large network of experienced instructors, it promises to provide learners with the vital skills for the industry.
This was demonstrated at this year's Construction Plant-hire Association's (CPA) Stars of the Future Awards, where apprentices and trainees from across the UK were recognised for their achievements in plant construction.
The event took place in Coventry where 12 students from NCC were nominated and four of whom attained regional and national titles.
NCC Senior Plant Mechanics Instructor, Jason Varga, said: "It really does show the dedication that the staff and the learners put into the work and that's why they do so well at the college."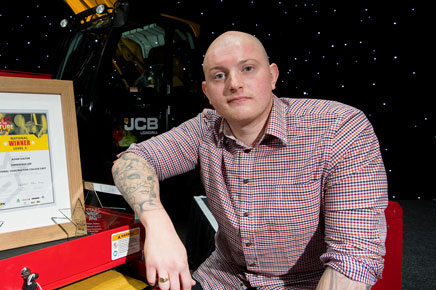 26-year-old Adam Dalton from Birmingham brought home the level 3 regional award and was the overall national winner. This marks the third year in succession that an NCC apprentice has won the national award.
"It was nice to be nominated and even better to win," said Adam. "Not only do you get a pay rise, you also get shiny new tools so everyone can see that you know what you're doing!"
Currently employed by Toppesfield Ltd, Adam attended NCC at the Bircham campus as a requirement of his apprenticeship and said he got along well with the instructors and found the timetabling very manageable.  He also emphasised the quality of the facilities available at Bircham: "You have the opportunity to access all of those massive machines!"
The NCC has four sites across the UK, all with the aim to provide ample opportunity for learners to gain the best start in their career in construction. This varies from the authentic simulators available at Bircham, to the dedicated instructors who hold a wealth of knowledge and are keen to pass on their knowledge and tricks of the trade.
As an instructor at NCC, Jason Varga explained how real-life experience can play a pivotal role in learners' development.
"Sometimes you'll find they don't quite understand something and then you explain it in a way that contextualises it for the learners and I think most of the individuals appreciate that."
Jason's dad was the manager of a plant construction company, which meant that he found himself surrounded by the industry from a young age. Having shared a similar journey to his students, he finds it easy to relate to their experiences.
"Back when I was 16 I did the course that the students are actually doing now. I spent 20 odd years in the trade and then decided to impart some of that knowledge and became a CITB instructor. It's more a way of life than a career for me."
20-year-old Sophie Gray, from Glasgow, a level 2 regional winner representing NCC Scotland, also praised the instructors for their level of expertise: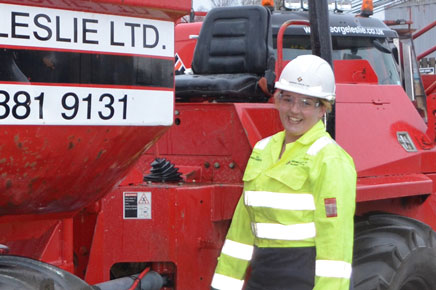 "The instructors really know what they're talking about," said Sophie, "and if you ever didn't quite get something, the class would wait until you caught on. I want to gain all the knowledge I can to get up to the same standard as my colleagues and then in the future I'd like to put my skills to use abroad in Canada."
Both Sophie and Jason explore the need for more diversity among the workforce, as Sophie refers to the predominantly male work environment. However, she doesn't let this affect her, as she paves the way for more women to get involved in careers in construction.
She adds: "I do feel that I've been accepted into the gang and the more accepting companies are the more welcome you will feel."
Technological advances within the industry are also having an impact on opportunities for women. As a result, construction can not only cater to women more effectively but more roles are being generated which require a variety of traits.
Jason discussed the changing times as a positive step in the right direction, adding: "There's equipment available now so that anyone of any stature, gender, background, race or religion can get involved in the industry."
Sophie Gray didn't expect to get an award, so winning one gave her encouragement for the future. When asked what advice she would give to someone considering an apprenticeship, she said: "There shouldn't be anything holding you back – go for it! You get some older guys who are stuck in their ways and say it's not a place for women but that's never stopped me."
Return to top