Consensus 2021
Consensus took place between 14 June and 15 August 2021, with the Levy Proposals supported by two out of every three employers who are likely to pay.
Consensus consultation with employers likely to pay Levy under the Levy Proposals for 2022 – 2025 takes two paths. Firstly, collating the views of 14 Prescribed Organisations (POs) that speak on behalf of their Levy paying members and, secondly, a representative independent survey of employers that are not members of a PO. Results from the POs and the survey are weighted to ensure all employers are represented equally.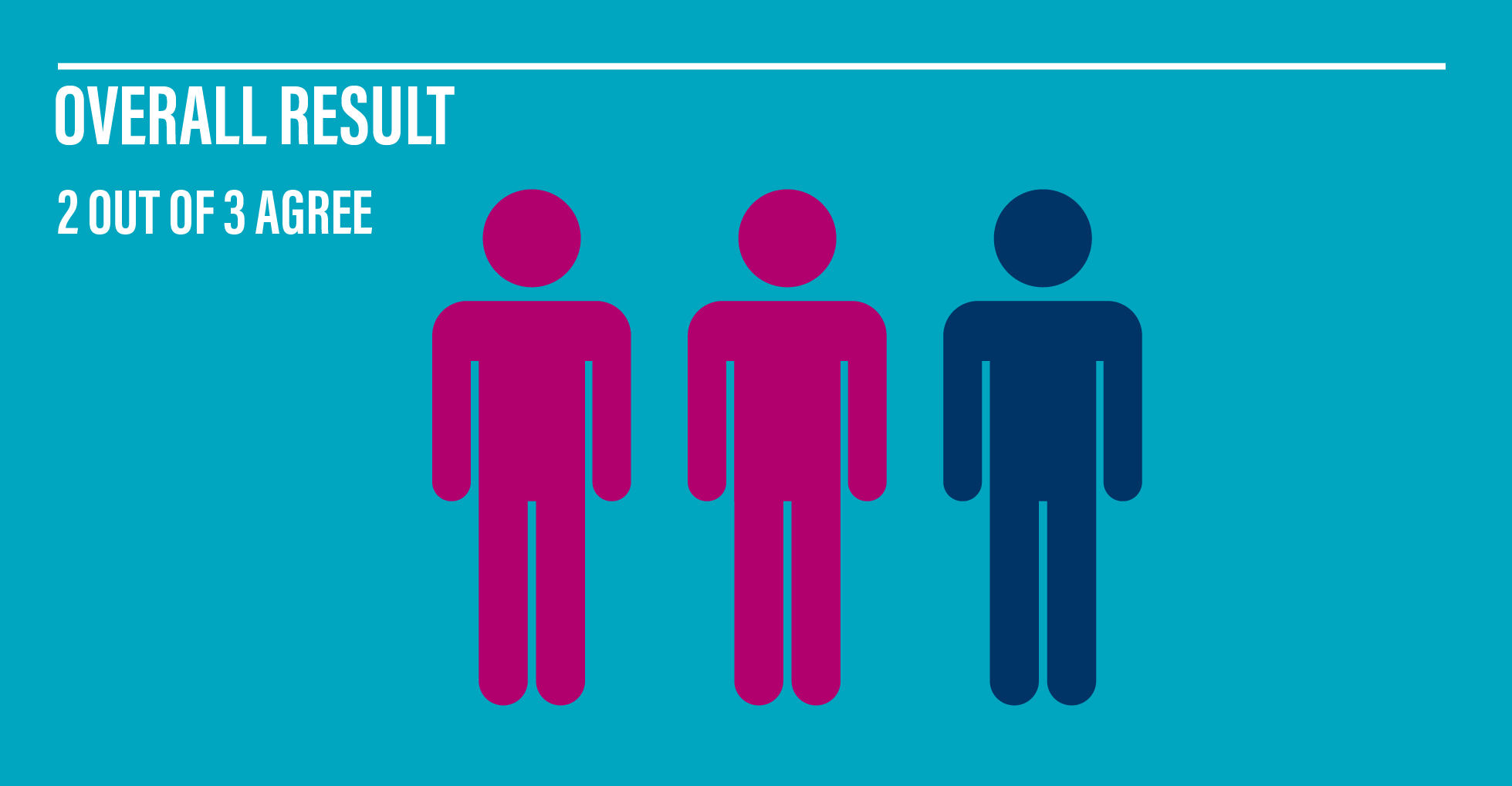 Overall result
Two out of three (66.5%) of likely Levy payers agreed with the Proposal while one out of three (33.5%) disagreed.  Results also must be measured in terms of how much Levy payable is paid by supportive employers and this was 63.2% in favour.  Both measures must be higher than 50% for Consensus to be achieved.
---
Results breakdown
Independent Survey of employers not members of a Prescribed Organisation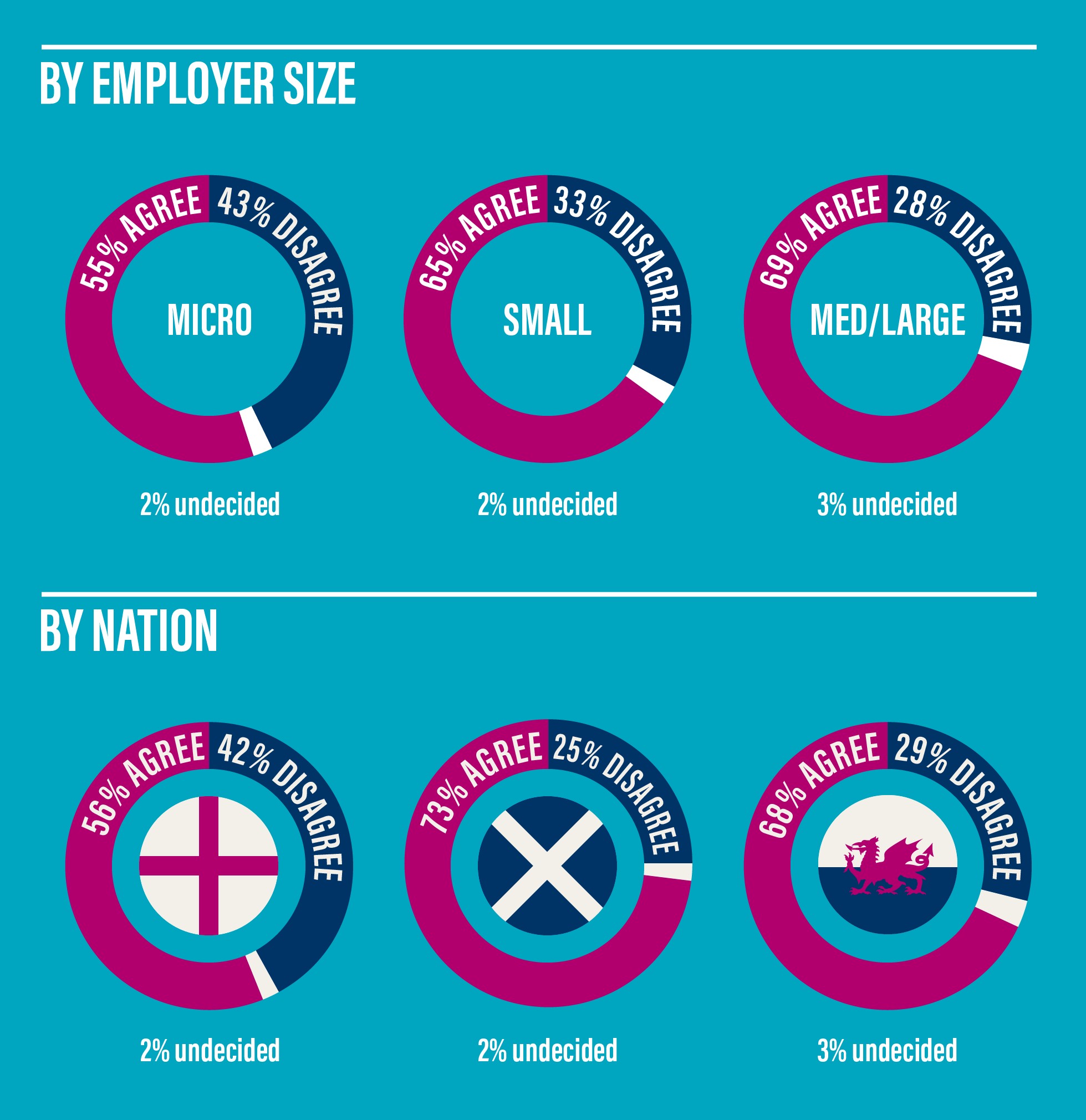 By employer size
Micro 
55% agree
43% disagree
2% undecided
Small 
65% agree
33% disagree
2% undecided
Medium/Large
69% agree
28% disagree
3% undecided
By nation
England
56% agree
42% disagree
2% undecided
Scotland
73% agree
25% disagree
2% undecided
Wales
68% agree
29% disagree
3% undecided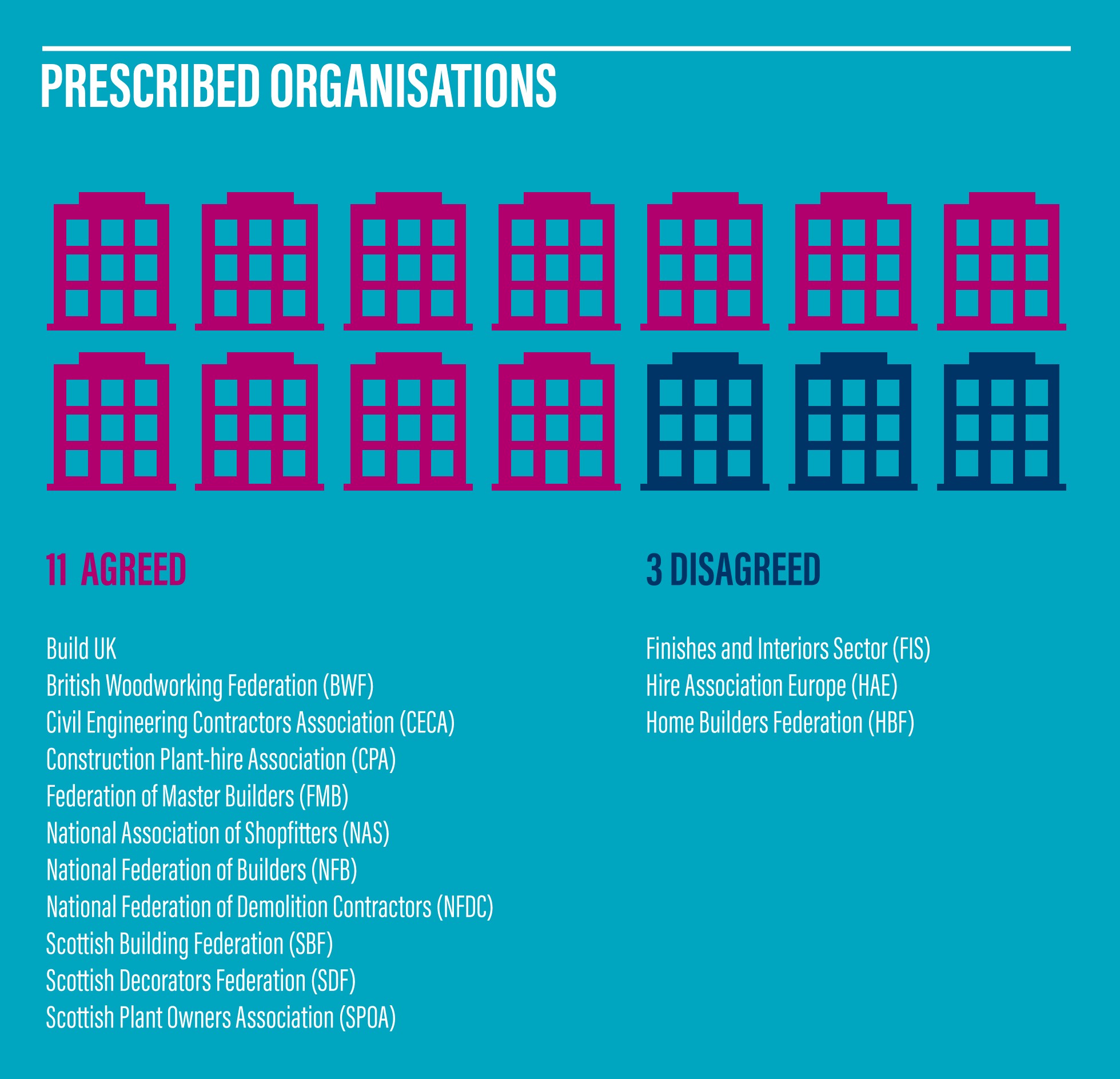 Breakdown of results by Prescribed Organisation: 11 POs agreed (79%) with the Proposals and 3 disagreed (21%).
11 Prescribed Organisations agreed 
Build UK
British Woodworking Federation (BWF)
Civil Engineering Contractors Association (CECA)
Construction Plant-hire Association (CPA)
Federation of Master Builders (FMB)
National Association of Shopfitters (NAS)
National Federation of Builders (NFB)
National Federation of Demolition Contractors (NFDC)
Scottish Building Federation (SBF)
Scottish Decorators Federation (SDF)
Scottish Plant Owners Association  (SPOA)
3 Prescribed Organisations disagreed 
Finishes and Interiors Sector (FIS)
Hire Association Europe (HAE)
Home Builders Federation (HBF)
Consultation Reports 2020 & 2021
Consensus was due to take place summer 2020 however with the onset of COVID-19,  the Board took the decision to postpone the Consensus process and seek a one-year 2021 Levy Order for this year's Levy assessments at reduced Levy rates in recognition that industry needed immediate support. The 2020 Consultation Report  PDF, 1MB) shares the findings.  
In preparation for the 2021 Consensus,  an industry-wide consultation on the draft Levy Proposals 2022-25 was completed. The 2021 Consultation Report (PDF, 440KB) shares the findings.  
The Levy Proposals 2022-25
To replicate the pre-COVID Levy rates, as assessed in 2018 – 2020:

PAYE: 0.35%
Net paid (Taxable) CIS Sub-contractors: 1.25%.

To maintain the Levy Exemption Threshold of £120,000 applied in the 2021 one-year Levy Order, which was an increase of 50% from £80,000 used in 2018-2020
To retain the 50% Reduction in Levy for employers with a wage bill of £120,000 or more, but below £400,000.
In making the Levy Proposals for 2022-25, the Levy Strategy Committee (LSC) considered providing stability for employers, a fair distribution of payments, transition from the current reduced Levy and getting back to a position where industry can be best supported, without putting extra burden on Levy payers.
Return to top