December 2020
Pearson Professional Centres continue to operate the HS&E test, following Government guidance, tiered systems and restrictions when required. Please check your test confirmation email or letter for details of safety measures at the Test Centre including the requirement to wear face coverings, or for any changes to your scheduled appointment.
ITCs throughout the UK should ensure that they make the decision on whether to deliver testing in line with the guidance issued by their respective Government. CITB would like to remind ITCs that it is essential that all COVID-19 advice is followed and that you comply with all health, safety and welfare Government-issued guidelines in order to protect all staff and delegates.
Please see below the links to the Government websites:
July 2020
As of 22 July, the majority of Pearson Professional Centres in Scotland will open, with our ITC network being phased back on a one by one basis once they have confirmed the implementation of social distancing measures. 
Wales will also re-establish testing on 20 July
June 2020
As of 5 June, all Pearson Professional Centres in England are now operational.
May 2020
Following the Government announcement on 10 May, CITB is re-establishing the Health, Safety and Environment testing operations in England. The majority of Pearson Professional Centres in England will be operational from 18 May with our ITC network being phased back on a one by one basis once they have confirmed the implementation of new social distancing measures.
For those outside of England, we  have  the following temporary LITE testing products as well as some suggested test delivery guidelines to help employers run their own in-house interim testing to give a level of local assurance that an employee is safe to work on their site.
Please note: These LITE tests cannot be used to apply for a CSCS or CPCS card. Permission to allow the employee on site is at the discretion of the employer. This is an interim measure only. The candidate must pass a HS&E test in a Test Centre once temporary restrictions on Test Centres have been lifted. 
CITB: LITE Operatives and Specialist HS&E TEST ONLY
CITB: LITE Managers and Professionals HS&E TEST ONLY
Employers can use the app and/or the windows PC/Laptop download to 'test' their employees in a controlled environment.
Our supporting revision products are still available on Apple iOS, Android and PC.
Impact of renewals
We understand this decision will have an impact on card applications and renewals, so we have been liaising with card scheme providers to agree how to tackle this challenge. We are supportive of calls for employers to provide flexibility on recently expired cards. You can find more on this by following the links below
Candidate support
We are working closely with Pearson Vue to ensure support is in place to reschedule or refund a candidates test.
In addition, we continue to work alongside Pearson Vue to understand ways of maximising testing capacity for when the test centre network reopens.
We wish to take this opportunity to assure you we are doing everything we can to ensure employers and candidates are supported through this difficult time; the health and wellbeing of the British Construction Industry is of paramount importance.
If you have any concerns or queries, please email: HSEtestdev@citb.co.uk
April 2020
Due to the current situation with COVID-19, we have made the decision to temporarily close our Test Centres. This is as a result of Government guidance and guidance provided by the NHS. This is to ensure the safety and wellness of not only our Test Centre staff, but also the candidates.
Until such time as we are confident that it is safe to re-open our Test Centres; we will not be booking or rescheduling tests.
We have put interim measures in place to support employers and candidates during this difficult time. For more information; please visit our Urgent Messages page.
June 2019
Changes were made to make the test even more robust so that operatives can continue to be safe on the job, and know their fellow workers are just as qualified to contribute to a safe working environment. Employers can also have assurance that their qualified workforce is less likely to lose days to injuries on the job.
Up to date with current practice and legislation
All versions of the test were reviewed, and where applicable the questions were updated to keep up with current legislation.
The Operatives test in particular underwent a substantial update to better reflect the range of day to day tasks and repsonsibilities an operative has on site.
CITB worked with construction health and safety managers and trainers with years of hands-on experience in making these changes, so that the revised HS&E test is up-to-date and fit for the needs of workers and employers.
Level playing field
Each person taking the revised Operatives test will have the same proportion of easy, medium and hard questions. The test will continue to serve up a random combination of questions to a candidate, but each combination will have the same level of difficulty.
We worked with industry experts to make sure that all the test questions were rated for difficulty, so that the revised test is a 'level playing field' for operatives who take it.
One score to pass
Instead of two sections of questions to answer candidates only have one in the revised test. The behavioural case study questions have been removed.
The test will still examine whether candidates know the right behaviours to demonstrate in the job, as behavioural elements have been incorporated into many of the test questions
As there will only be one section of questions, the score will be simpler to understand as a result.
With the new scoring, candidates will now need the following scores to pass the test:
for the Operatives test, the pass mark is 45 out of 50
for the Specialists test, the pass mark is 45 out of 50
for the Managers and Professionals test, the pass mark is 46 out of 50.
Please note detailed score reports will no longer be available, all information available as to what areas you have passed or failed within your test will be on the score report you recieve at the test centre. Should you lose or misplace your score report you can now go online and print another copy meaning you no longer have to pay the £10 duplicate fee. You can do this by logging in to the PearsonVUE portal (where you book online tests). If you need further information about printing a score report please contact testingservicesfeedback@citb.co.uk 
New questions and a new style
New questions have been added to better cover the wide range of daily health, safety and environment tasks and responsibilities. So, instead of a limited variety of questions, each candidate will now get a wider selection.
A new question style has also been introduced to the Managers and Professionals (MAP) version of the test. In this new style, candidates will drag and drop the answers into the right order. This format helps test whether a candidate really knows the procedures for being safe on the job.
This new style joins the other styles that were added to the test over the last year.
Please note that the questions platform is not a practice test and no score will be given when you try to answer a question.
Clearer instructions
Test centres reported that many workers struggled with the instructions on how to use the test equipment. We've now improved the on-screen tutorial so that candidates can learn how to operate the equipment during the test.
You can see a preview of these new styles on our sample questions platform by using the button below.
Please note that the questions platform is not a practice test and no score will be given when you try to answer a question.
Materials to revise, not memorise
Revision materials, such as DVDs, books, downloads and apps, have all been updated alongside changes to the HS&E test. In the operatives version, we've replaced some questions and answers with short explanatory text and included more diagrams to make it easier for candidates to prepare and revise for the test.
The updated revision materials are now available to purchase from the CITB Shop. For all tests from 26 June onwards candidates require the 2019 versions of the revision materials.
These updates have been designed to help workers learn and be able to practise health and safety. When a worker passes the test, it should be because they know and practise safe working, not because they've memorised the answers but don't really know how to be safe on the job.
The updated revision materials are now available to purchase and download from the CITB Shop.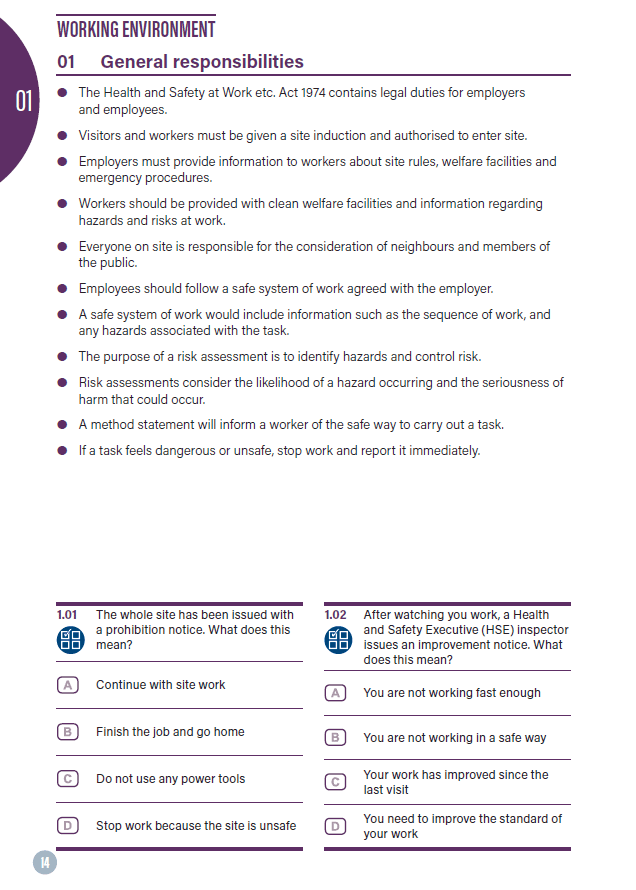 Example page from updated revision materials showing new content format.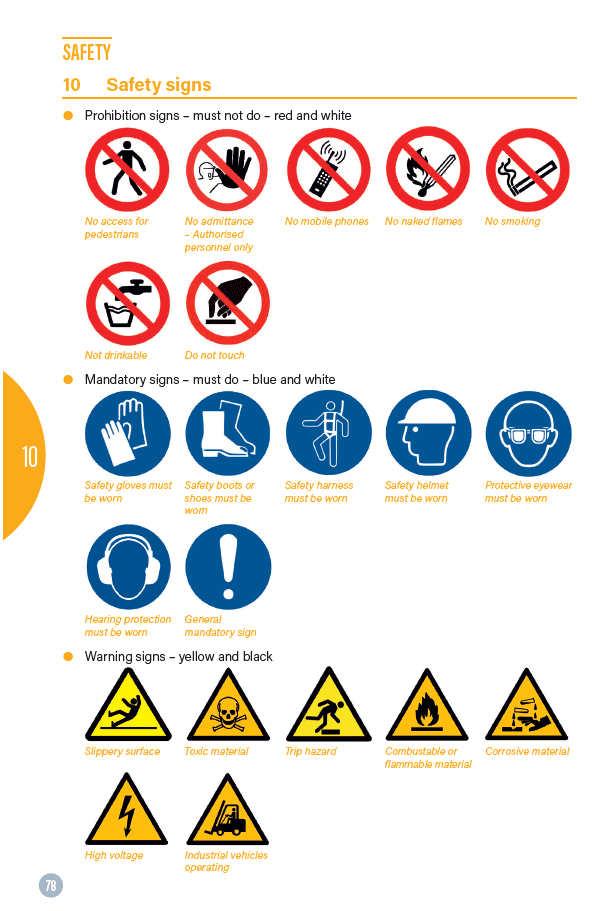 Example page from updated revision materials showing new diagrams to revise with.